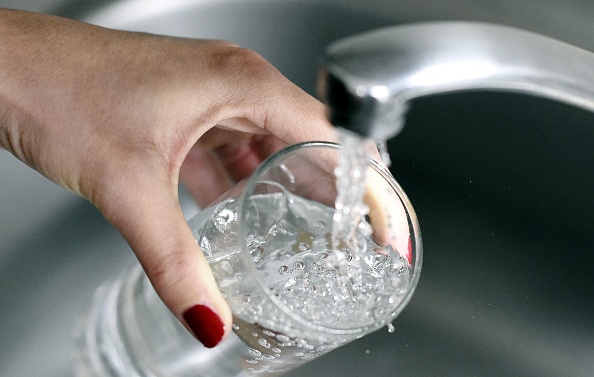 Consumers are being advised not to drink the public water supply for 24 hours
A Do Not Consume Notice is in place for all consumers on the Moynalty Public Water Supply in Meath – due to increased chlorine levels in the water supply.
It's been in force since 5pm yesterday.
Irish Water says the decision was reached following consultation with the Health Service Executive and is a precautionary measure for 24 hours.
It's stressing that this is NOT not a Boil Water Notice, where water can be used once it's been boiled and cooled.
Irish Water says it's provided an alternative water supply with an Intermediate Bulk Container located beside the church, at the junction of Main Street and the R164 – and is advising that THAT water should be boiled before use.
The area affected is outlined here: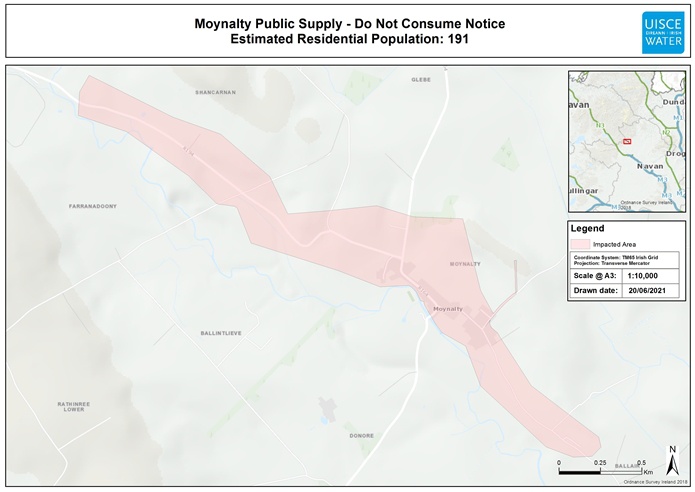 Irish Water says the HSE  is advising that the water from the supply is unsafe to:
• Consume for drinking;
• Use in connection with food preparation; and
• Use for personal hygiene, including brushing teeth and bathing.
All prepared drinks, foods, ice cubes and baby food which contains drinking water collected after 08:00H on
Sunday 20th June 2021 should be discarded.
In the interest of Public Health, it is advised that all users (i.e. domestic and commercial) on the affected
scheme should NOT use tap water until further notice, EXCEPT for:
• Flushing of toilets; and
• Flushing of internal house plumbing systems.
Customers must not drink the water or wash in the water until further notice, however we are
working to resolve the issue as quickly as possible.
Customers are advised to draw down water from attic/storage tanks. Customers should flush toilets or
run bathroom taps intermittently, and as tanks re-fill, chlorine levels in these storage tank should return
to normal.
1: Caution:
• Domestic water filters will not render water safe to drink
• Caution should be taken when bathing children to ensure that they do not swallow the bathing water
• Discard ice cubes in fridges and freezers and filtered water in fridges.
• If you have pets and are concerned about the impact of providing mains water while this Do Not
Consume Notice is in place, you should ask your local vet for advice
 
2: Only use Prepared/ Bottled Water for the following situations.
• When preparing foods that will not be cooked (e.g. washing and preparing salads)
• Preparing Infant Formula. Where a Do Not Consume Notice is in place, you can prepare infant
formula from bottled water. All bottled water, with the exception of natural mineral water, is regulated
to the same standard as drinking water. It is best not to use bottled water labelled as 'Natural
Mineral Water' as it can have high levels of sodium (salt) and other minerals, although it rarely does.
Vulnerable customers who have registered their details with Irish Water will be directly contacted, but those who
require additional assistance should contact its Customer Contact Centre: 1800 278 278
Visit our Covid-19 Info Hub for the latest news and information on the pandemic