Kyle Odom's friends have told her that they would have been seeking out prescription medications to deal with the type of trauma-inducing events she went through leading up to the pandemic.
Odom instead turned to an ancient healing practice that she now shares with others in her role as a Reiki Energy Practitioner at the Restoration Center in downtown Battle Creek where therapists specialize in trauma and PTSD, addiction and family conflict.  
"I had two pretty traumatic events in my life," Odom says. "At the end of 2018 my son went to trial because of his involvement in a crystal meth ring. He's my only child and it was difficult to get through that. On the heels of that, I met somebody online and thought we'd be together forever and then I got a phone call from Homeland Security that this person was part of a fraud ring. He gave me a story about how he needed money for a project and that I would get it back when that project was finished."
Through Homeland Security, she learned that the real "project" was bilking Odom out of $500,000 — her entire retirement savings.
Facing the reality of selling her condominium in Kalamazoo and essentially starting over financially with her only child serving a 20-year prison sentence, Odom says the temptation to seek a drug-induced quick fix was there. But, in the back of her mind she was searching for alternatives, a way of thinking that was instilled in her as a child raised in a home where Christian Science was the predominant religion.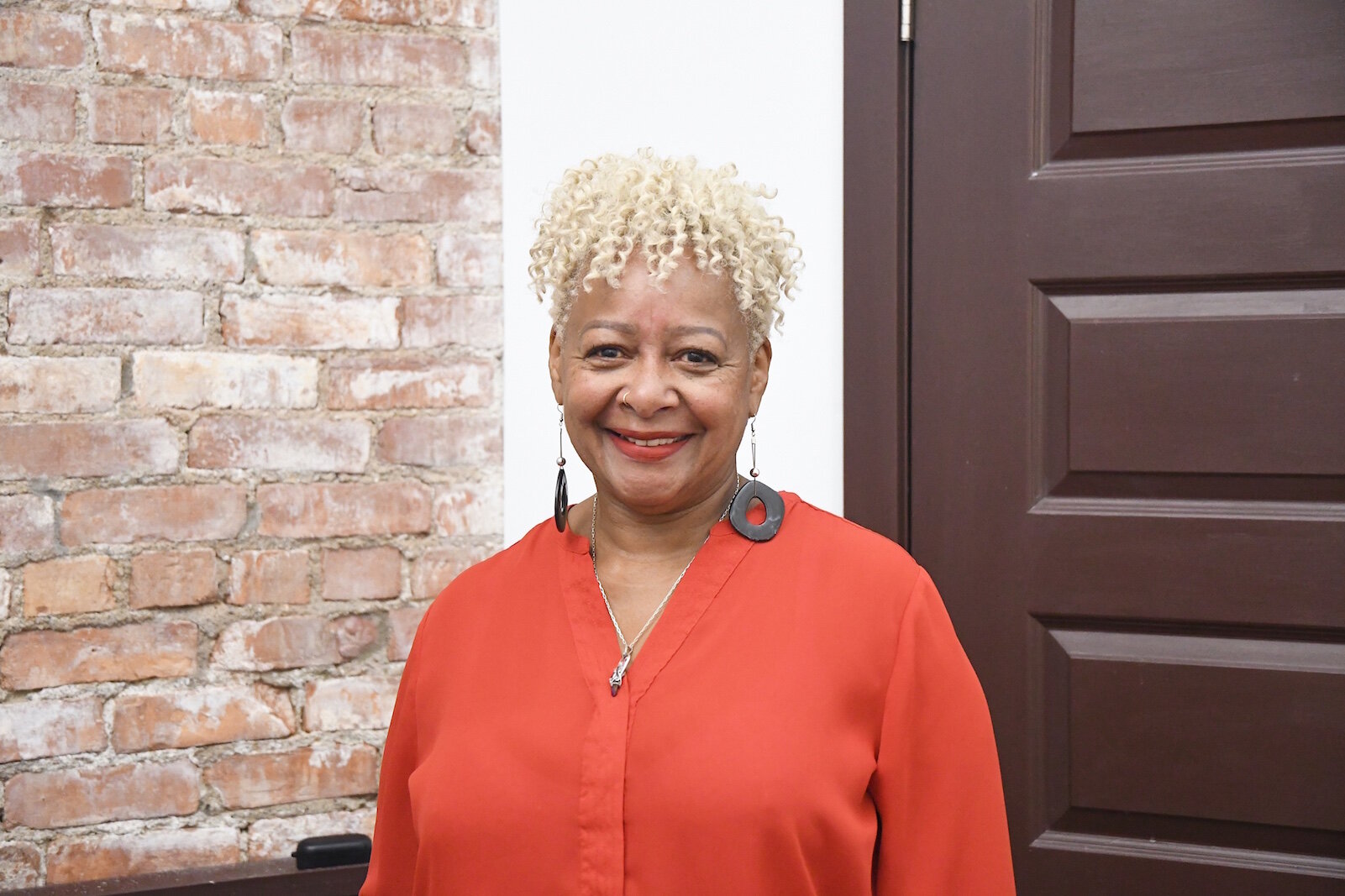 Sherrie Schanzenbaker at the Restoration Center.In 2019 she took a guided meditation class at Choices Unlimited Inc. in Richland. A Reiki instructor there and a woman who owned a Medical Intuitive practice recognized that Odom was gifted at a spiritual and energy level and encouraged her to make the most of both.
Reiki is a Japanese form of alternative medicine called energy healing. Reiki practitioners use a technique called palm healing or hands-on healing through which a "universal energy" is said to be transferred through the palms of the practitioner to the patient in order to encourage emotional or physical healing.
"Once I took these Reiki classes I started practicing on family and friends and I saw something there that I could offer people," Odom says. "After one class I worked on one of my Reiki instructors who was having pain and she said she could feel the bones moving in her back and the pain was gone. I was able to take her energy to help her. All of us have the capability of healing ourselves. Some people are not open to it, but all of us have the capability."
Odom saw proof of this as a child when she watched her grandmother, a Christian Science practitioner, heal people.
"In my DNA I've always had a heart to see people have fewer struggles in their lives. Most religions don't teach you to think outside of the box," she says. "My foundation in Christian Science taught me to think outside of the box. I'm really open to all modalities that people can use and have access to have a more rich life."
At some level, Odom says she's always been using her spirituality to help others. In 2016, she was doing one-on-one spiritual counseling sessions and volunteered at the Michigan Youth Challenge Academy in Battle Creek where she helped youth in the program maneuver through the hardships they were facing. She says a number of these young people were adopted and navigating issues of rejection from their families.
With these youth and those who now seek her out at the Restoration Center or at events focused on healing, she doesn't ask a lot of questions, preferring instead to see what their spirit or the universe reveals to her. She will be among a group of more than 30 practitioners participating in The Healing Expo this Friday through Sunday at the Lakeview Square Mall.
In addition to interacting with practitioners, participants will be able to attend workshops focused on topics including Breath Work and Shamanism, says Sadie Galvin, Healing Expo Coordinator and owner of Sadie's Sourcery in Sherwood.
Odom says she will offer Reiki sessions at the Expo, in addition to newer work she has been doing with Frequency Healing, which measures the vitality in various areas of the body and mind and indicates the location of blockages that may be preventing these areas from functioning at optimal levels. After areas of blockage are identified, specific sound frequencies are then used therapeutically in order to manipulate human brainwaves to promote healing of the body and mind. Sound frequency healing has been used to treat a number of different kinds of ailments such as insomnia, anxiety, depression, and disorders of the nervous system, according to the Mind is the Master website.
Odom uses a device, no bigger than an Oreo cookie, that is connected to wires attached to bracelets that fit around each wrist. This device scans the body and establishes frequencies that tell her what is going on with a client from a physical standpoint.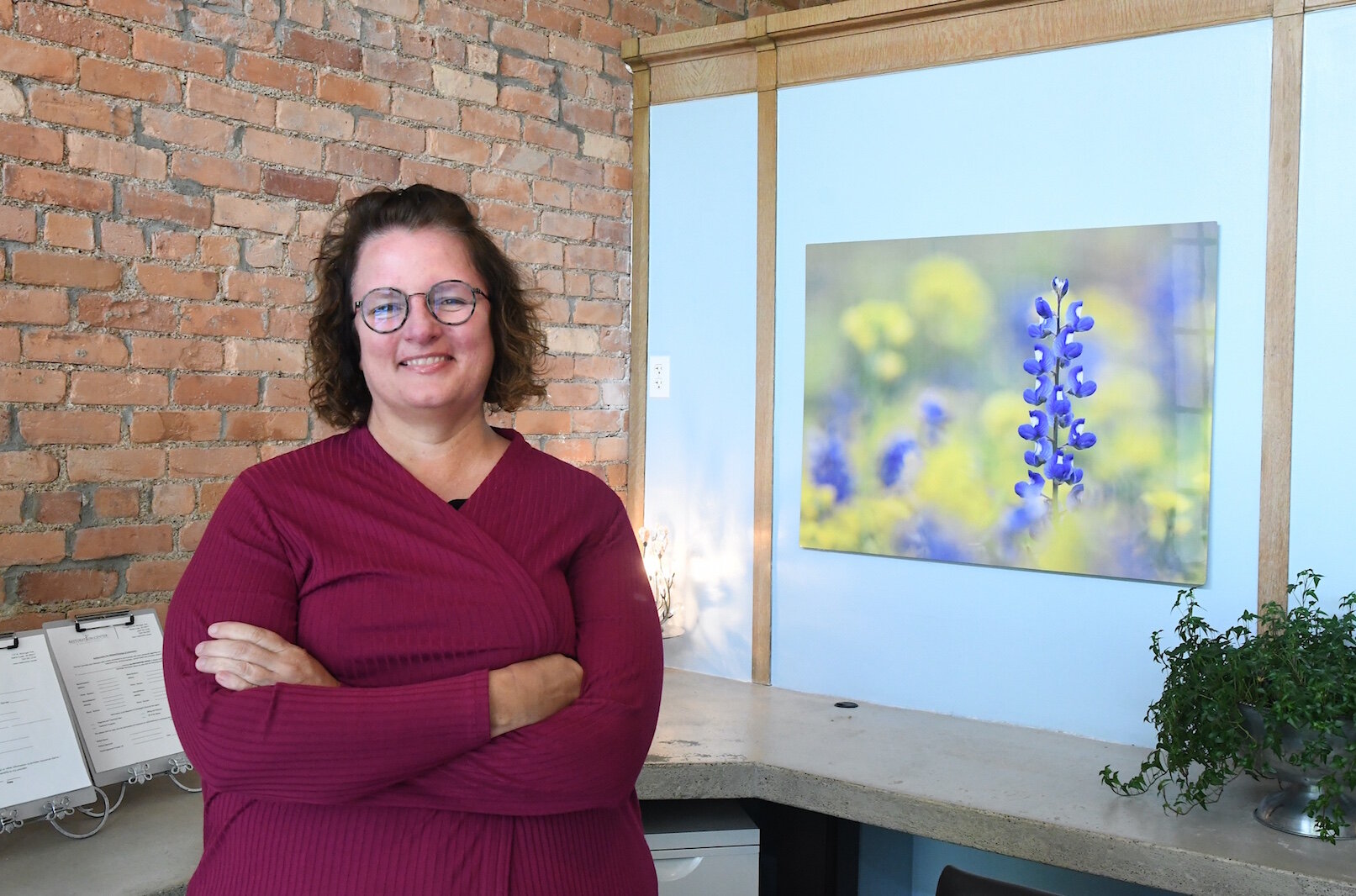 Sherrie Schanzenbaker at the Restoration Center."I drill down and try to figure out what the core issue is that's driving the rest of what's going on with that individual," Odom says. "I feel a sensation and lay my hands there and if I feel a blockage I'll lay my hands there until it goes away. Frequency operates in the background while I'm doing the energy work. Frequency is like when we charge our phone, the body in the same way needs to be charged properly." 
The beauty of the energy and frequency is that it has no limitations or boundaries, similar to air, she says.
The majority of Odom's clients want to explore alternative ways of dealing with situations that may be grounded in the emotional, spiritual, or physical. Knee and back pain and sciatica are among the physical ailments that bring people in to see her.
Bringing a different skill set Into the mix
Odom says she knows there are people who consider her healing practices unorthodox and view the outcomes with suspicion and skepticism. She says she thinks their thought process is based on a lack of knowledge. She says what she does now has been going on for centuries in other countries, especially in Asia and the Caribbean.
Sherrie Schanzenbaker places an item in the sand tray at the Restoration Center
Although she was building up a client base and offering virtual and in-person sessions, Odom wanted to find a dedicated space for her practice. She found that at the Restoration Center where she has been since June 1.
"Kyle came to me and was looking for space," says Sherrie Schanzenbaker, owner of the Restoration Center at 115 Michigan Avenue. "I had been looking for a massage therapist, but I knew that an energy worker was someone who could complement what we already have here and be part of the healing team. 
"I knew she would be a great fit and great balance for our practice. When working through trauma, having someone who can do energy or body work along with psychotherapy offers a beautiful combination of healing and restoration."
Schanzenbaker, who was born and raised in Battle Creek, is one of five therapists at the Restoration Center, each of whom has a specialty including LGBTQ-plus teenagers, marriage and family, addiction and trauma. She says the center offers the flexibility of working independently, but also is a place where therapists can come together to share expertise if there is a family or individual dealing with multiple issues.
 
For example, Schanzenbaker says when a family comes in for therapy there are often relationship struggles going on that are caused by unique situations experienced by each individual family member rooted in trauma or addiction. 
Post-pandemic, therapists are seeing many clients with relationship issues and teenagers struggling with eating disorders caused by anxiety and social media interaction. Schanzenbaker, a foster and adoptive mother, says kids who were able to continue with activities like sports or dance have fared better than those who were limited to virtual interaction.
"I can go to another therapist here and bring them into the conversation which is better for the client," she says.
The Restoration Center on Michigan Avenue in downtown Battle Creek.As a way to broaden the services and options offered, a Spanish-speaking social worker will be added to the mix at the Restoration Center. Schanzenbaker says the social worker is also a therapist who will broaden the Restoration Center's ability to serve the community's marginalized individuals.
 
"Insurance companies are more likely to pay a social worker, but not a licensed therapist, who works with people on straight Medicaid who are also part of that marginalized community. This will give us more opportunities to reach someone on Medicaid. That will be a nice addition," Schanzenbaker says.
Collectively, between 90 and 100 people are seen each week by the Restoration Center's five therapists, four of whom work part-time and have other jobs. As is the case with therapy practices throughout the United States, Schanzenbaker says hers is filled to capacity, but she won't turn anyone away.
As the only full-time therapist, Schanzenbaker has a weekly client load of 40 and often sees clients on evenings and weekends when her children are busy with practices or other activities. About 15 percent of those she sees are unable to pay.
"I feel that if you found us, there's a reason and I'm not going to turn anyone away," Schanzenbaker says.
 
In addition to Battle Creek, their clients come from other cities like Albion, Kalamazoo or Jackson because they may not feel comfortable seeing a therapist in their own community.
Schanzenbaker says she intentionally looked for a downtown location because of its close proximity to the highway and city neighborhoods where people have access to bus transportation. The Restoration Center has been in its present location for three years. Prior to this, Schanzenbaker shared space with another therapist for five years at the other end of Michigan Avenue.
"When our lease was ending and I was thinking about what's next, I knew I wanted to have a place where we were helping every part of us — mind and body — our desire is to meet people where they are," she says.
  
As a result of the COVID-related isolation people were living in, they had to be with their issues. There was little to distract them. This is one of the many reasons that psychotherapy and alternative healing, such as that offered by Odom, is opening up, Schanzenbaker says.
 
"I'm hopeful that we stay on this path of saying that therapy is as important as going to the doctor and is a natural part of the growth and healing process," she says. "I want our building to be a sacred and calming space and I know when the time is right, the right people will show up to add to what we already offer here. I feel like this is how it should be, working together in a healing community like this."