When it comes to building muscle and working towards healthy weight loss, protein is one of the most valuable macronutrients to include in your diet. Not only does it help to fuel your body with energy and increase satiety to manage overeating, but it can also boost your metabolism and make it easier to burn fat naturally throughout the day, resulting in weight loss. While the ideal scenario is getting enough protein in your diet through whole foods such as meats, beans, and legumes, certain dietary restrictions can make this more difficult and it may be useful to implement protein supplements into your eating plan to reach your goals. 
Protein shakes are a great addition to any given diet for healthy weight loss, but as always, the other ingredients included within the drink can make a major impact on its overall nutritional value. High sugar foods will make it more difficult to lose weight as they are often loaded with calories and minimal other nutrients, so it's important to evaluate the entirety of your shakes before automatically assuming they're helping you towards healthy weight loss. This summer as you work to change your diet for the better, there's one ingredient you should be weary of in your protein shakes according to the experts.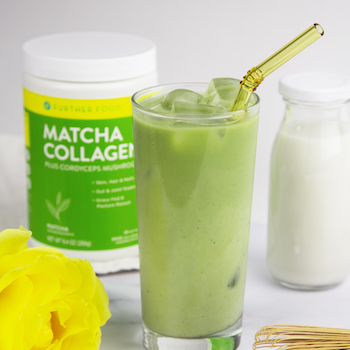 This Collagen-Packed Matcha Is The One Drink You Need To Have Everyday For Wrinkle-Free Skin
Shutterstock
Protein powder is often blindly considered to be healthy, but the reality is that many brands sell high sugar variants that may taste delicious, but are actively working against your weight loss goals. Protein powder is an integral part of making a healthy and filling shake, but only if you're choosing a low sugar option that actually offers a significant amount of nutritional value. "Protein shakes have a lot of sugar and calories in them. Some protein powders include very little sugar, while others contain a lot (as much as 23 grams per scoop). Some protein powders turn a glass of milk into a beverage with almost 1,200 calories," warns physician and consultant dermatologist, Dr. Wong Soon Tee.
Healthy weight loss hinges upon a low sugar diet that can help fuel your body and streamline functionality, and boosting your blood sugar levels with certain protein powders can have a surprisingly adverse effect on your health. Because of this, it's vital to keep an eye on your sugar intake for the day, making sure not to overload your body. "I recommend that women consume no more than 24 grams of added sugar per day and males consume no more than 36 grams," says. Dr. Tee.
Shutterstock
It's easy to believe that across the board your protein powder choice is aiding in your health journey, but being cognizant of the ingredients list as with any food is vital in ensuring that you aren't blindly consuming unhealthy ingredients. "Sugars in protein powders that digest fast and release glucose into the bloodstream enhance your glycemic load, which can lead to insulin spikes, extra fat accumulation, and lower cardiometabolic health over time," says Dr. Tee. With this, protein powder options such as Vital Proteins Collagen Peptides or Orgain Grass Fed Whey protein will be your best bet for low sugar, moderate calorie shakes that offer ample nutrients to fuel healthy weight loss.
A well-rounded diet should consist of a balance of carbs, fats, and protein to satisfy your hunger and promote weight loss without depriving your body of the ingredients it needs to thrive. Protein shakes can be a great component to add to your eating plan to offer ample protein that you may be missing, but it's always important to check the ingredients list on your powder before blindly assuming it will make for a good addition to your diet. Finding a low sugar, high protein option with moderate calories is going to be your best bet for stoking sustainable and healthy weight loss without spiking your insulin levels or causing your body to hold onto excess fat. While it may take a little extra thought to double check the ingredients, your body will ultimately thank you for keeping refined sugar intake to a minimum.