A junior minister has committed to fully implementing a national clinical programme for eating disorders by 2024.
It comes as the plan published in 2018, which was due to be completed in a five-year period, has only delivered three of 16 promised specialist treatment hubs offering multidisciplinary teams of clinicians.
"I am determined that I will see the full roll-out of this programme," Minister of State at the Department of Health with responsibility for Mental Health and Older People Mary Butler said.
The minister's comments came as the State was accused of "exporting" people seeking eating disorder treatment to the UK by CARED Ireland, a group representing families and carers of people with eating disorders.
CARED Ireland said it is highly concerned about a lack of public specialist adult in-patient beds available nationally for people with eating disorders and called for a dedicated national service for eating disorder treatments.
"We need a hospital that is dedicated to eating disorders," a member of CARED Ireland, whose daughter has an eating disorder and wishes to remain anonymous, said.
The mother added there needs to be "beds available for those who are at crisis point" along with "multidisciplinary teams available to treat those who are attending as in-patients or out-patients".
"Right now, that is totally lacking. There are only three adult in-patient beds available in St Vincent's for adults providing those multidisciplinary teams," the mother added.
The Health Service Executive confirmed the three specialist in-patient beds at St Vincent's University Hospital are only available to people living in the HSE's CHO6 area – an area covering Wicklow, Dún Laoghaire, and Dublin South East.
There are no nationally dedicated specialised adult in-patient public beds for people with eating disorders. Instead, eating disorder in-patients are treated in general or psychiatric hospitals.
CARED Ireland said because of the lack of in-patient multidisciplinary services for adults many families must pay for private treatment. In some cases, people need to go abroad for treatment.
Susan Brennan, whose daughter has had an eating disorder for nine years, said treatment in general or psychiatric hospitals is not acceptable.
"My daughter has had an eating disorder for nine years. At one stage she was in a general hospital.
"It is very distressing for these patients to be in a general hospital where they don't have the supports that they need to deal with the mental trauma of what they are going through while they are being refed.
"What happens in other cases where beds are not available, people are sent to the UK for treatment. It is disgraceful that in this day and age, that Ireland is exporting their problems to the UK and that we don't have a hospital or treatment facility available to treat our people here at home," said Ms Brennan, who is also a CARED Ireland spokesperson.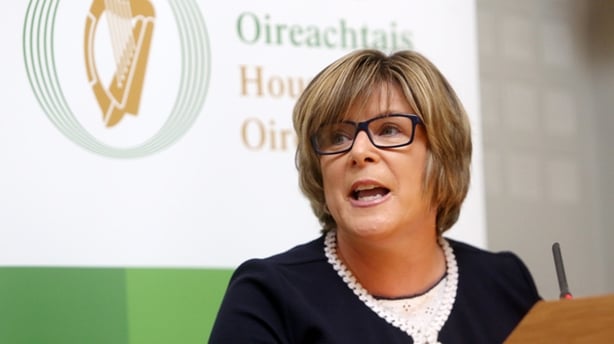 Minister Butler said she is aware of people receiving treatment abroad.
"Currently, two people are being treated abroad. I am aware there are some people that are being treated abroad and some of them are being treated abroad privately but what we are trying to do is to develop a state of the art eating disorder service throughout the whole country," the minister said.
Referring to the lack of specialised in-patient treatment, the minister committed to making more specialised adult in-patient beds available for people suffering eating disorders.
"We do need the 20 dedicated eating disorder beds that were proposed in the 2018 plan and timeframes will need to be identified. I am working on that at the moment," the minister added.
The minister confirmed the 20 specialist in-patient beds – like the three already operating at St Vincent's University Hospital in Dublin – will only be open to patients if they are living in the HSE area the beds are in.
"It would be my preference that when these beds are in place that every single region would have access to beds. That is the way we do it for child and adolescent mental health supports but the plan would be that you would be cared for in your regional structure as close to home as possible," Minister Butler commented.
Reacting to the call by CARED Ireland for a hospital dedicated to eating disorders, the minister indicated the focus remains on existing structures.
"The most important thing I believe is that we continue the care through the regional structures as best we can," Ms Butler said.
'Most important thing now is we stay on target'
In 2018, the National Clinical Programme for Eating Disorders promised 16 specialist eating disorder hubs.
Today, there are only three hubs. Of €5.7m made available for eating disorder posts through Programme for Government funding since 2016, a total of €1.77m has been spent to date in eating disorder specialist posts.
Minister Butler said she is committed to using the €3.94m remaining to implement the 2018 programme.
The minister said she was disappointed the 2018 programme has moved slowly. But she is determined for that to change.
"We will have six full teams in place by the end of this year. I am determined that I will see the full roll-out of this programme. For me the most important thing now is that we stay on target and we deliver the eating disorder teams year-on-year until we get the 16 teams in place and we get the dedicated beds in place.
"It is a slow process, I will accept that, but we have to build on the work that is done already. 2024 would be my aim to have all 16 teams in place," she added.
In a statement the HSE said: "Adults with eating disorders can access treatment from local community mental health teams. There are currently 112 adult community mental health teams nationwide. 90% of new re-referred adults are offered an appointment within 12 weeks therefore waiting lists are not collated nationally for adult community Mental Health Services. Our Mental Health systems do not capture data on service users by clinical diagnosis."
"Adults who have an eating disorder diagnosis and require inpatient care can be referred to any of the HSE's acute inpatient mental health-approved centres around the country. There are also three dedicated beds in St Vincent's hospital ring-fenced for adults with eating disorders in Community Healthcare East (CHO6)," the HSE added.