You might be inclined to skip meals and opt for a calorie-controlled meal replacement bar in your quest to shed a few pounds this January, but a leading nutritional coach warns that these highly-processed bars should be the last thing on your grocery list.
"Meal replacement bars that are marketed at protein bars or touted as being healthy raise a red flag for me," Lisa Richards, certified nutritional coach and creator of The Candida Diet tells us.
"While these bars are convenient they are often ridden with refined carbohydrates, artificial sweeteners, gluten, dairy, and unnecessary fats."
Lisa gives the example of a "popular protein bar" that contains 290 calories, 11 grams of fat (6 of which are saturated fat), 17 grams of added sugar and "only 2 grams of dietary fiber, "and 330 mg of sodium. "This nutrient description isn't much different from many chocolate candy bars," she warns.
"Stop with the protein bars that taste like candy!" celebrity health and wellness Joey Thurman, CES CPT FNS, of kuudose agrees. "If you didn't run a marathon, you don't need that much sugar!" he states.
"I would keep people away from sugar alcohols that are contained in many diet foods and bars," weight loss physician Dr. Craig Primack conquers.
Most protein bars on the market, like Clif Bar's White Macadamia Nut bar, have the nutrient quality of a candy bar with a higher price tag, registered dietitian Trista Best tells us.
Win $1,900 worth of luxury handbags!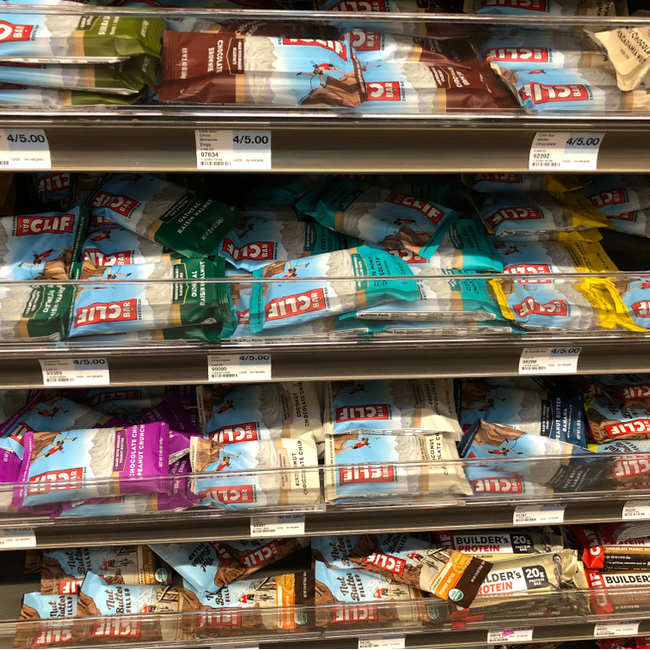 Additionally, these bars (as well as breakfast bars) aren't very gut-friendly, experts warn. "Processed bars of this nature are manufactured with highly inflammatory ingredients that wreak havoc on gut health while providing very little in the way of dietary fiber," Lisa warns. "They can stall weight loss, raise glucose, and lead to overeating on calories as they do not keep the individual full for long." Yikes!
So, what should you buy instead? Lisa suggests convenience foods such as trail mix, bananas, apples and other easy to travel fruits and nuts that "lack refined carbohydrates and provide a great source of protein and fiber to keep you feeling full and satisfied."
"It's important to recognize that convenience doesn't have to mean processed," she says. Good point!