Priyanka Naik's family loved roadtripping, setting out from their home in Staten Island, N.Y., for destinations like Niagara Falls, Lake George, Vermont, and Washington, D.C. But they always had one problem. Back in the 1990s, the Hindu family of five had difficulty finding service areas with vegetarian options. Naik, the youngest of three daughters, recalls how tiffins—stainless steel lunch containers with stacked compartments—were essential to these family excursions: they preserved the integrity of the home-cooked, vegetarian meals inside, ensuring that the family had something to eat during their travels.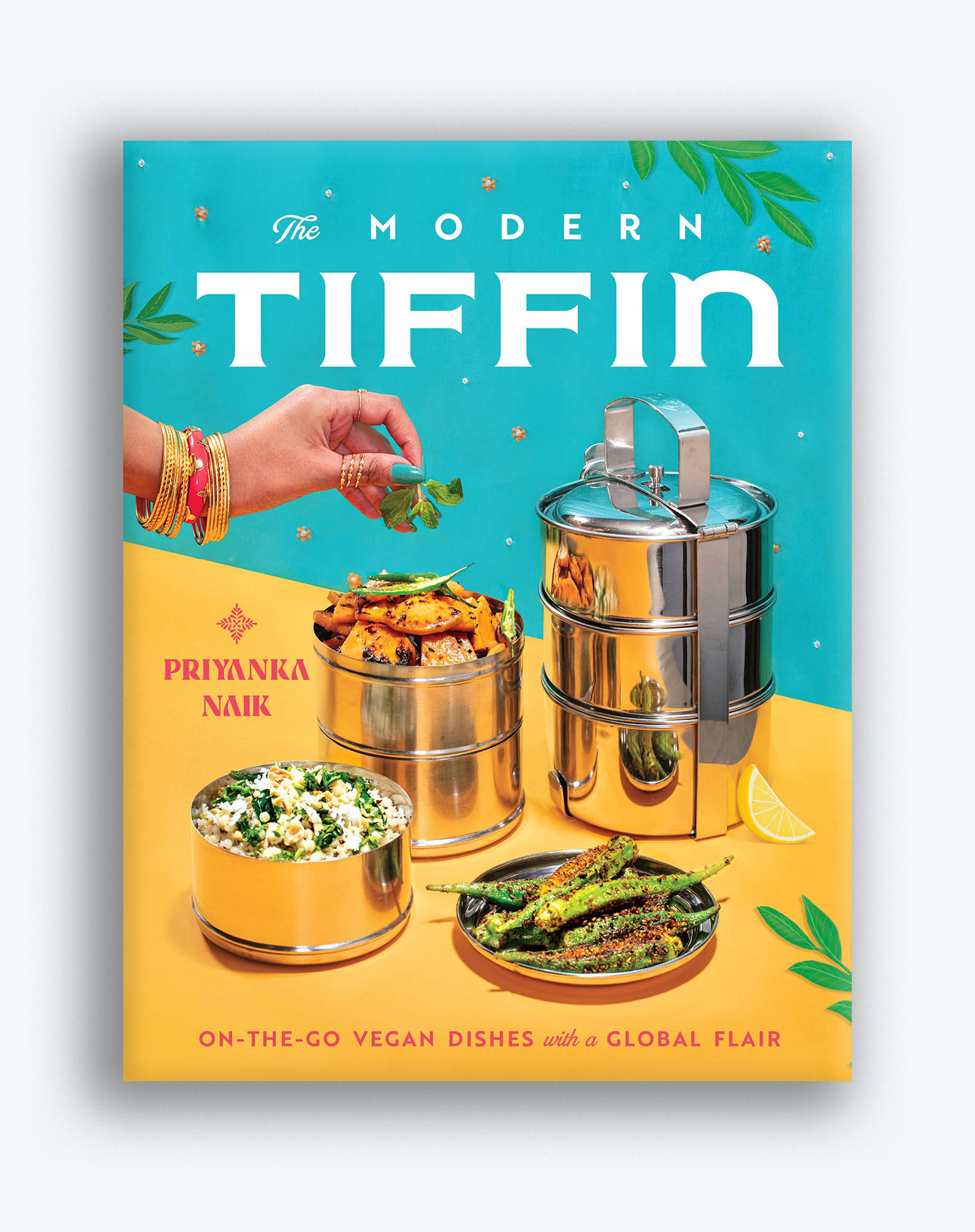 Now a chef and TV personality, Naik (CAS'10) combines the art of the compartmentalized lunch box and her own globe-trotting lifestyle in her first cookbook, The Modern Tiffin: On-the-Go Vegan Dishes with a Global Flair (Tiller Press, 2021). The recipes, portioned for two, are designed to be an accessible—and a whimsical—introduction to vegan food and to Naik's cultural and culinary background. She draws inspiration from her mother's home cooking, her travels to India, Mexico, Australia, and dozens of other countries, and the creative possibilities afforded by today's abundance of plant-based substitutes for dairy products and eggs. (Tadka mac 'n' cheese with Cajun bread crumbs, anyone?) Plant-based eating has always been part of her life, she says: Veganism "has never been trendy for me…. Most of what [my family] cooks is vegan, we just don't call it vegan. We call it food." 
The Modern Tiffin will be released on November 2—a day after World Vegan Day and just in time for Diwali, the five-day festival of lights celebrated by Hindus around the world.
Symbols of Home Cooking
More than a handy container to transport food, the tiffin reflects the traditional structure of an Indian meal. Its multiple compartments hold a central grain-based dish (either chapati or rice), one or more vegetable dishes, and dal, a spicy, stewed lentil dish, all served as one course. Used most often as lunch carriers throughout India and other parts of South Asia, tiffins are also portable symbols of the hearth and home cooking, and they're often passed down from generation to generation. 
Naik—the daughter of immigrants from Maharashtra, India's second most populous state—says that "all the [tiffins] that are featured in the book are ones that have been passed down to my parents and/or gifted to my parents during their wedding…. Some of them are engraved with my mom's name."   
When she was growing up on Staten Island, Naik didn't take a tiffin to grade school, but rather a segmented lunch box that her mother would pack each day with the likes of Bombay sandwiches with fresh chutney, potatoes, and cucumbers, or spaghetti with a spicy, homemade Masala cheese sauce. She credits her mom with instilling in her the tastes and techniques of Maharashtra and Southern India.
Naik began to cultivate her global perspective on food during her BU senior year fall semester, when she studied in London. "It is a very common Western way to think about food as protein at the center, carb on the side, and vegetable on the side," she says. "But really the rest of the world does not think that way."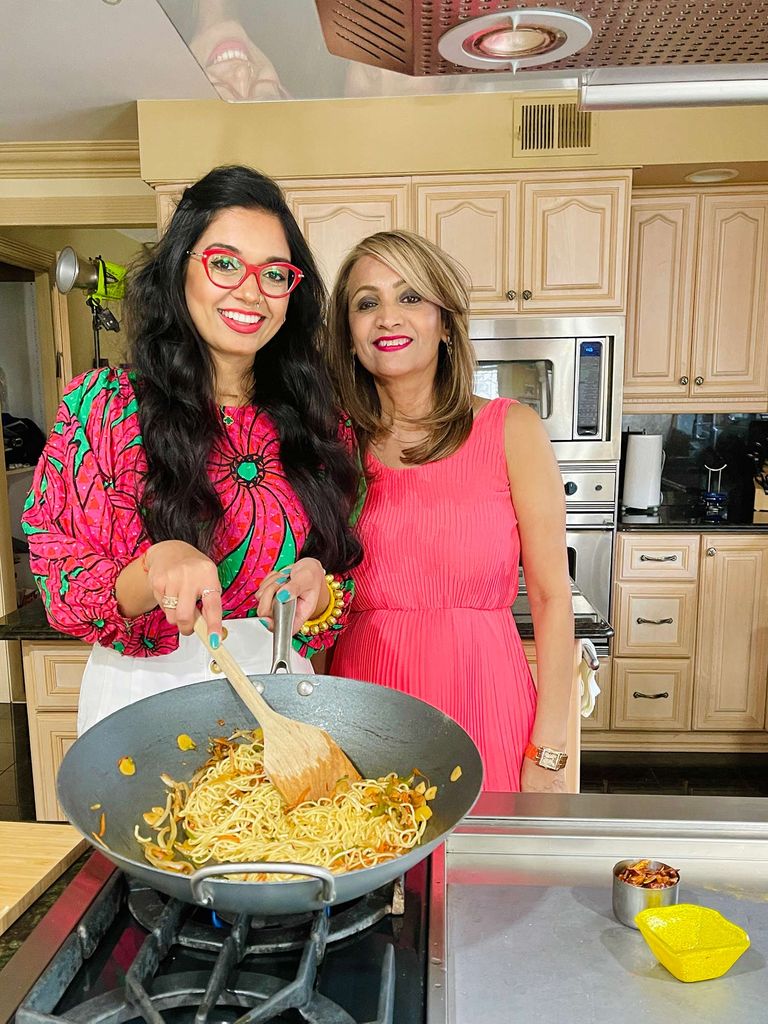 She learned how to cook in earnest a little over a decade ago, when she got her first job and had to pack her own lunch. Around that time, she had recommitted to being vegetarian (after a stint as a chickatarian during college), and started a blog about her recipes. She used social media to connect with fellow bloggers and food companies and started contributing recipes to PETA, Meatless Monday, and Foodista. As her following grew, Naik continually looked for ways to meld her professional life with her blog; while leading the data science team at Bloomberg, she created the Bloomberg Pantry social account and hosted office cook-off challenges. 
Her vegetarian kitchen chops honed, Naik says, she "started trying out for Food Network and other shows as a vegetarian chef, and I was rejected a lot. They thought [vegetarian food] was too niche, that the audience [wasn't] ready for that." 
In 2017, she got her big break: on season five of the Food Network's Cooks vs Cons, a show where two professional chefs and one home cook compete for a $10,000 grand prize. Naik beat out two professional chefs with her vegetarian nacho cheese pav bhaji, her take on a Maharashtrian street food she refers to as an "Indian Sloppy Joe." 
Now focused on vegan recipe development, Naik has since appeared on Quibi's Dishmantled and the Today show's "Make-Ahead Monday" segment and has hosted Tastemade's Dish It Healthy—a testament to her creativity and the growing popularity of plant-based products. When the pandemic hit, she filmed, produced, and starred in her ongoing IGTV series Cook with Chef Pri at 3, sharing recipes like dark chocolate rose pistachio bark and vegan BBQ rub stuffed jalapeño poppers with her 86,000-plus followers. 
She does it all while working full-time in tech—she's currently at Twitter—but she's always found a way to combine her two roles. For example, Twitter invites award-winning executive chefs to run its cafeterias across the globe, and in 2018, Naik joined the Twitter guest chef "Hall of Fame," which includes the likes of Nigella Lawson, Bryant Terry, Floyd Cardoz, and others, as the first Twitter employee to be a guest chef at its New York City office. Her vegan cilantro pesto bucatini with almond-cumin "Parmigiana" was served for lunch to more than 400 Twitter employees. 
This October, Naik was recognized for her accomplishments both in and outside the kitchen: she received the Boston University Alumni Association Young Alumni Award during Alumni Weekend. 
Treating Food Like It's Hindu
With a mix of sweet and savory recipes, each chapter of The Modern Tiffin focuses on a specific region of the world, such as the "The Maharashtrian Indian Tiffin" or the "The Mexican Tiffin," and includes advice for readers on how to pack the dish in a compartmentalized lunch box.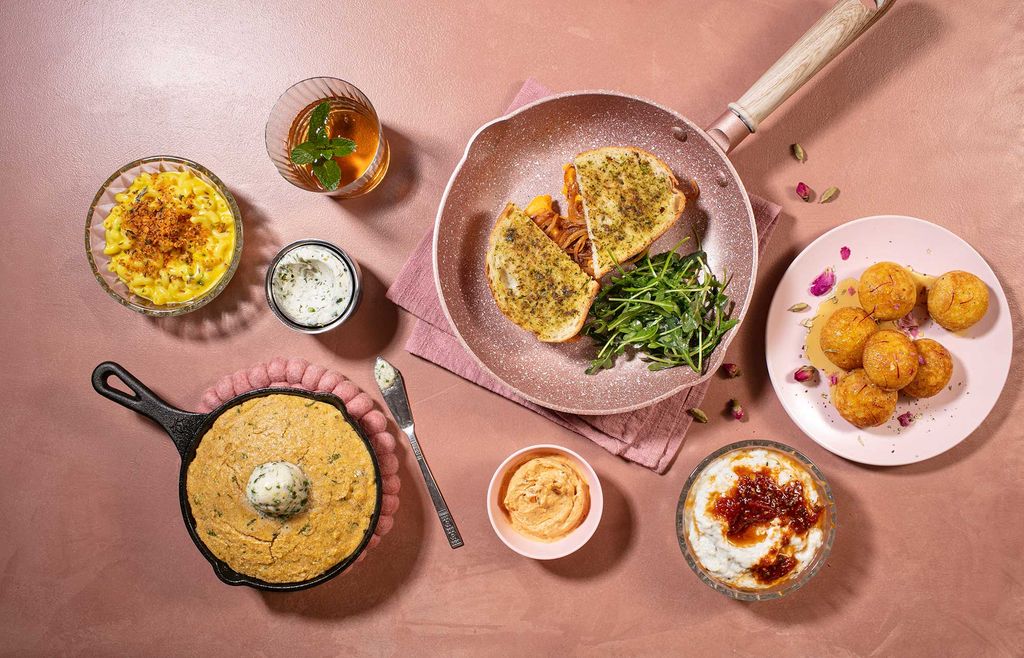 Naik also provides tips for repurposing leftovers, like turning extra bucatini à la pumpkin with pink peppercorn and pistachio into a skillet pizza or leftover rice into a stovetop biryani, and reducing food waste by using vegetable scraps to make stock. 
"I treat my food like it's Hindu—there is more than one life, it's stuck in the cycle of Samsara [the concept of rebirth], and it can be reincarnated into all kinds of dishes," she writes. 
It may seem like less-than-ideal timing to launch a cookbook on packing lunch when more people are working from home, but Naik says she's had the idea for a while. And as fate would have it, her current literary agent, Andrea Cascardi (COM'85), found Naik in the "Class Notes" section of Bostonia.  
Now that the book is finished, Naik is eager to continue sharing her culinary creativity on screen, whether online or on cable TV. "I have grown up not really seeing anyone who looks like me on [food] TV—yes, we've had Padma Lakshmi, but that was in a very different context, and obviously [Indian-Americans] are not all the same," she says. "I would love to be able to use my style of cooking, my culture, and my personality to not only entertain, but to educate, and ultimately empower people to feel like they're able to cook different dishes, and think about vegan food in a different way."  
Check out Priyanka Naik's recipe for chili-maple skillet corn bread below. (Excerpted from The Modern Tiffin by Priyanka Naik, with permission from the publisher, Tiller Press. Copyright © 2021 by Priyanka Naik.)
---
Chili-Maple Skillet Corn Bread
Serves 2
Corn Bread
1 tablespoon vegan butter, at room temperature
3/4 cup cornmeal
1/2 cup all-purpose flour
1 teaspoon baking powder
1/2 teaspoon kosher salt
1 teaspoon raw cane sugar
3/4 cup unsweetened nondairy milk
1/4 cup neutral oil
1 teaspoon garam masala 
1 tablespoon coarsely chopped fresh cilantro (stems and all!), plus a few leaves for garnish
1 Indian green chili, minced (see Note)
Maple-chili Garlic Butter
4 tablespoons vegan butter, at room temperature
1 clove garlic, coarsely chopped
1 Indian green chili, chopped
1 tablespoon coarsely chopped fresh cilantro (stems and all!)
1⁄8 teaspoon amchur (mango) powder (optional)
Pinch of kosher salt
Pinch of freshly ground black pepper
Prep Your Skillet: Preheat the oven to 350°F. Grease a small cast-iron skillet or baking dish with vegan butter. Set aside.
Batter Up: In a medium mixing bowl, using a wooden spoon or whisk, mix together all of the corn bread ingredients until just combined—do not overmix.
Bake: Pour the batter into the prepared pan and bake for 20 to 25 minutes, until cooked through and a toothpick inserted in the center comes out clean. You may see a crack on the top, which is perfectly fine!
Meanwhile, Make the Maple-chili Garlic Butter: Using a food processor, blend all of the ingredients together until very smooth, with no visible bumps of garlic. Transfer to a small deep bowl and smooth out the top. Place in the fridge to set until ready to serve.
Garnish and Serve: Once the corn bread has cooled for 2 minutes, scoop on some butter using a mini ice-cream scooper and garnish with a few leaves of cilantro. If eating immediately, then serve warm! If packing it up for an adventure, once the corn bread has cooled, cut and place into your tiffin. Separately pack your chilled butter in a small container. By the time you get to your destination, the butter will have become room temperature, so you directly "dunk" your corn bread into the butter and indulge!
Note: Green arbol chili peppers or serrano chili peppers can be substituted for the Indian green chilies.